Retreats
Scout/Girl Guide groups, educational workshops, camping, outdoor summer camps, board retreats, silent and meditative retreats—it all happens at Tucker House.
Roam our 30-acre property and enjoy the fire pits, pool, picnic tables, learning barns, and of course the nature trails!
Characteristics
In the house, you have full access to two large meeting rooms, the Heritage Parlour for meeting in a circle of 20 people or so, and Tucker Hall, great for board room style presentations or a meal for 20-30 people.
These rooms feature original woodwork cut and milled on-site, lots of natural light, and design details by a Confederation-era architect. We also feature a wheelchair accessible washroom downstairs. The upstairs level has full bathrooms, close to the bedrooms.
Contracts
All rentals are under a single contract holder who signs and is responsible for the rental group. A deposit of 25% is due in advance, with the remainder due on the date of the retreat, payable by cheque or card to Tucker House Renewal Centre. The contract holder must be a responsible adult who is on-site for the duration of the rental.
For availability or an appointment to view the house, please contact our Operations coordinator: bookings@maisontuckerhouse.ca (613) 446-2117
Ext.2
A signed contract, deposit of 25%, and signed agreement to conditions of use must be received prior to your stay. Please scroll down for more details, directions, and pricing.
Pricing
Booking includes free parking and Wi-Fi, presentation screen, and use of projector (upon request).
Weekend (Friday 3 PM to Sunday 11 AM) Starting at $1250
Weekday Overnight                                     $400
Week (7 days & nights)                                Starting at $2500
Reservations are made through bookings@maisontuckerhouse.ca. Deposit of 25% non refundable if the event is cancelled and is required at time of bookings and balance is due at check-in. A cheque for the amount of $250.00 is required for damages and returned after inspection of the property. Special rates available for non-profits and charities, please contact for details.
Get a quote!
For weddings and special events, contact the Reservations Manager for a quote. She will be happy to work with you, show around the house, know your needs and book the dates that suit your stay.
Bookings@maisontuckerhouse.ca (613) 446-2117 poste 2
Accommodation
La Maison Tucker can sleep up to 24 people, and more if you're camping! Our rooms have a variety of single and double beds, with several pull-out beds (drawer) and a queen-size bed. The regular layout includes 15 beds upstairs, several of which are double and queen size for couples or have pull-out beds for guests with children.
11 single (twin) beds/daybeds upstairs
3 double beds upstairs
1 queen bed upstairs
5 single (twin) trundles/pull-out beds upstairs
1 single (twin) daybed downstairs extends to become 1 king-sized bed and is wheelchair accessible
Please see our room guide below to plan your stay. Our bedding is decorative only so we can keep costs down to help community and church groups have an affordable place to go on retreat. Please bring your own sheet, pillow case, comforter and toiletries.
New Laundry service
Make your retreat complete with 100% cotton sheets for up to 24 beds. For a small fee, turn your retreat into a full service stay! Rates are $150.00 up to 10 beds and $200.00 for more than 10 beds.
Mr. Tucker's Room
Sleeps 3+ (3 single beds +3 trundle option)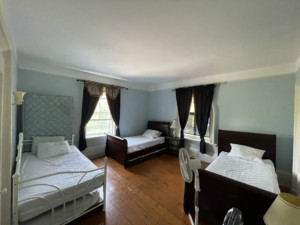 Also known as the "Blue Room," this room features hardwood floors, two windows, and luxurious deep-blue decor. It is furnished with two single sleigh-beds and one single day-bed, all with trundle-beds that pull out from underneath. (Note: Twin bed sheets will fit all beds in this room)
This room is believed to be the primary living space with a built-in closet that was constructed at a time when closets were rare and wardrobes more common. Note the period light fixture, the arched front window, the original closet, and the passage door.
Mrs. Tucker's Room
Sleeps 1-2 (One queen-sized four-post bed)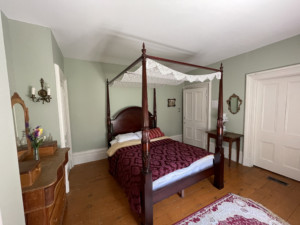 Mrs. Tucker's room and/or a dressing room; it was common for well-to-do couples at the time to have separate rooms or a separate dressing room. This room has not one, but two built-in closets—a rarity for the time. It is furnished with a queen-sized four-post bed, vintage settee, and original dresser.
The Prayer Room
Sleeps 1 (One single daybed)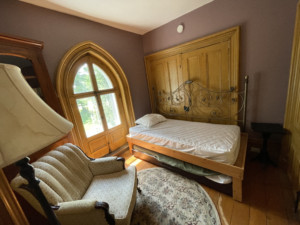 This room may originally have served as a small sitting room for sewing or embroidery during the day, or as a nursery for new babies. It connects the dressing room with the master bedroom and opens up to allow natural light into the upper staircase. Note the heritage woodwork and painted plaster of the arched window which once opened to a small balcony. This small but soulful space is furnished with a single day-bed.
The Guest Room
Sleeps 2-3 (One double bed and one single bed)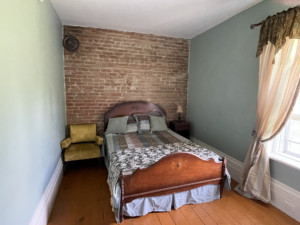 This room was once a deep pink colour, suggesting that it was used as a bedroom for the Tucker boys (pink was a male colour at the time). The single window looks out toward the back yard and forest. We have uncovered the original brickwork and the decor was chosen to highlight the subtle teal hues in the natural local clay. This room is furnished with a double bed in an antique bedframe and an additional single bed (not shown). There is also enough space to bring a small playpen or crib from home.
The Children's Room
Sleeps 4-8 (One twin-double bunk with trundle option, one stand-alone double bed, one simple single bed)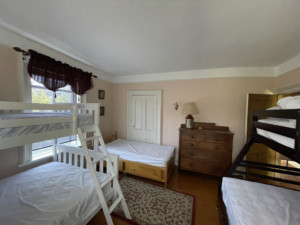 The Tucker girls likely shared this room once upon a time. Note the curved wall, shaped to accommodate the closet in Mr. Tucker's room, and the tiny built-in cupboard for linens or toys. Two large windows look out at the garden and yard. This room is furnished with a vintage brass double bed, a simple single bed, and a large bunkbed with stairs leading to a twin bed on top, a double mattress below, and a single trundlebed that pulls out to make a seventh sleeping space.
The Servant's Quarters
Sleeps 4 (Single beds)
This simpler room is located at the far end of the house, down the corridor and past the washrooms. Originally some of the Tucker servants would have stayed here, using the plain (and steep!) staircase to access the kitchen and start the meals for the day. Note that even the servants had small closets—the new fashion in architecture at the time! In keeping with the original design, the furnishings are less ornate, with simple single beds, but three windows make this a light and airy space, with the room facing a small grove of trees. As it is away from the main area of the house, it is often a favourite quieter space for families wishing to put young children to bed early while the family reunion continues downstairs.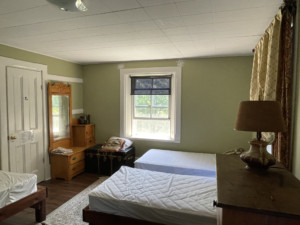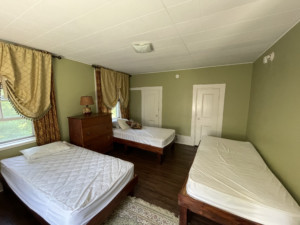 The Parlour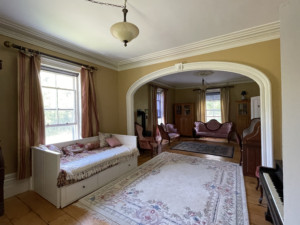 Main floor daybed – Sleeps 1-2
For additional sleeping spaces, the parlour features a single daybed. Upon request, we can provide an additional mattress and the daybed can pull out to become a king-sized bed.
Kitchen
We have a large, modern, eco-designed, and functional self-catering kitchen for your pleasure.  Stainless steel fridge, commercial range stove, 2 sinks, large island and plenty of dishes and silver ware for you to use during your stay.
Please note that guests must adhere to the health and safety conditions for the kitchen: no production of greasy vapors and no cooking of meat with oils. On the other hand, simmered and reheated dishes are allowed.
Don't have time to prepare food? Outside catering is more than welcome, feel free to speak with us about our favourite spots in town!
Facilities
There are 2 full bathrooms with showers on the second floor and one half bath/ accessible washroom on the ground floor.
Itinerary for Maison Tucker:
Address: 1731 Tucker Road, Rockland Ontario, K4K 1K7