Green Design
Tucker House strives to preserve our historic building while making improvements as an inspirational learning centre for sustainable living.
Our current major infrastructure project is to improve our capacity to welcome the public for learning, retreats, and programs on history and environmental topics. We want to ensure that our Confederation-era property continues to serve the Ottawa and Prescott-Russell communities. These renovations include significant updates to health and safety systems throughout the main house, upgrading our nature trails, and targeted repairs and updates on outbuildings.  We are installing a full fire alarm system and adding more emergency lighting, upgrading the kitchen range hood to allow for increased cooking operations for guests, implementing more of our sustainable forest plan with paths and signage, upgrading fire safety infrastructure in two buildings, and undertaking repairs for our Operations Manager's residence.
We acknowledge the financial support of the Government of Ontario and Ontario Trillium Foundation through the Ontario150 Community Capital Program.

This project is funded in part by the Government of Canada, with support through the Canada 150 Community Infrastructure Program. Ce projet est financé en partie par le gouvernement du Canada avec l'appui du Programme d'infrastructure communautaire de Canada 150.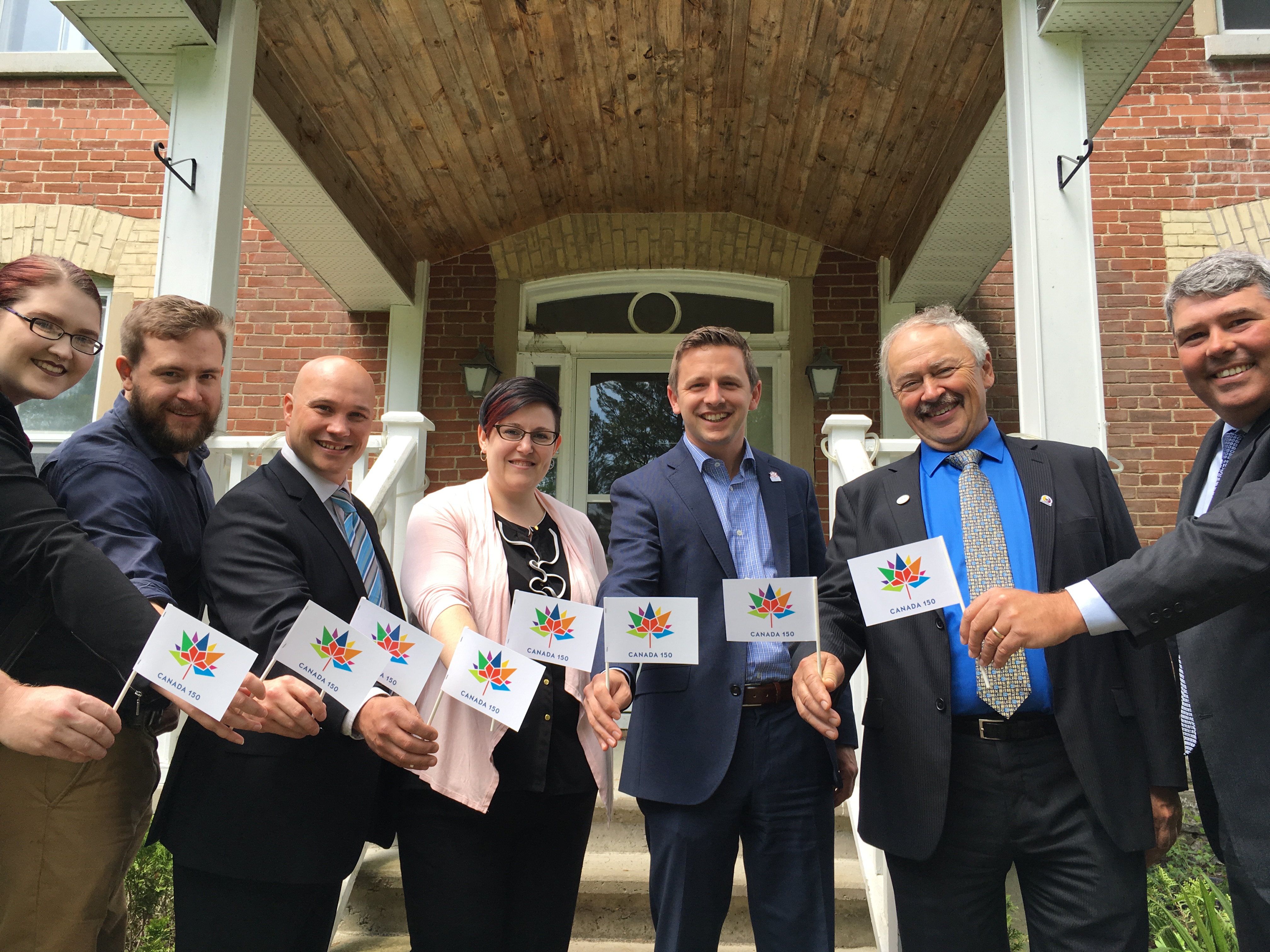 ---
Past Renovations:
Our second major renovations this decade were more of a restoration effort, to improve the decor, sleeping areas, and common spaces of our historic retreat centre. We would say that we updated the look, but actually we took care to research the Confederation-era, Georgian-style mansion's original decor would have been, to try and recapture some of the original grandeur. With the support of the Ontario Trillium Foundation, research and effort by several students and interns from Algonquin College and Carleton University, and hard work by ECO (Environmental Construction Option), the parlour was finished with comfortable, antique-style seating, the entryway regained a crystal chandelier,  and the original massive pine floorboards in the dining room and foyer were revealed from under carpeting and refinished. The original plaster-and-lath walls were retouched with authentic paint colours.
Upstairs, all bedrooms received decorative linens and drapes to match the time period and we replaced some furniture to maintain accommodations for up to 24 people while allowing more space and comfort for smaller groups. We also redid most of the electrical, did some needed repairs throughout, and added wall-mounted projector screen for meetings.
Our original Green Design included top-to-bottom retrofits for energy efficiency and conservation and to improve the non-heritage spaces like our kitchen and washrooms for greater functionality and comfort for guests.
With the support of the Ontario Trillium Foundation, we undertook several projects, including: upgrading from an oil furnace to a high-efficiency natural gas furnace, updated insulation, installed more energy-efficient lighting, redid all washrooms to include water-saving fixtures, and did a complete upgrade of the kitchen. It now includes a food prep island (which doubles as a meeting space), FSC sustainable cherrywood cupboards, recycled/able stainless steel fixtures and energy star fridge, energy efficient lighting, and low- and no-VOC tile flooring, paint, and countertops.
We also separately installed solar panels in a MicroFit system, with the help of a private loan, individual donations, and a Community Forward Fund loan. The solar panels help bring in revenue and are an important teaching and demonstration area on renewable energy.
Adopt a solar cell
We still have some lonely solar panels who need a good home and we still need your help to pay off our solar panel loan! You can invest in solar panels without the large expense and risk! We'll send you your happy adopted solar cell sticker and an attractive certificate of adoption.
Check out how your solar cell is doing at enphaseenergy.com.