The Green Gala is an annual fundraiser supporting the charitable programs of Tucker House. All funds raised support environmental education through children's nature camps, sustainable living sessions and retreats, and outdoor education programs.

This signature cocktail event features fine food and beverages with local and organic ingredients, musical entertainment, and a silent auction full of goodies such as delectable gourmet gift baskets, eco-friendly home and beauty products, jewellery and decor, gift certificates for Ottawa and Prescott-Russell's finest shoppes, and tickets for outings to restaurants, special events, and attractions.

Each Green Gala has a specialty theme; guests are invited to dress their best or choose costumes for the occasion.
Save the Date!!
The 2018 Green Gala will be held on Saturday, November 3rd.
Our theme this year is "Once Upon a Forest".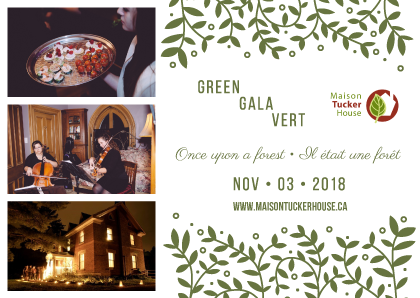 Tickets are $65, and include a $40 tax receipt. The Green Gala is held at our historical retreat centre at 1731 Tucker Road, Rockland.

Past Green Galas
2017 – Confederation Masquerade
2016 – Alice in Winter Wonderland
2013 – Green Gala 2013
* Tucker House recognizes that, as with Canada itself, the history of the site pre-dates Confederation and the arrival of the Tucker family. We acknowledge with respect that we operate on unceded Algonquin territory and seek to work with Indigenous peoples toward Reconciliation.