Paranormal Investigation at Tucker House!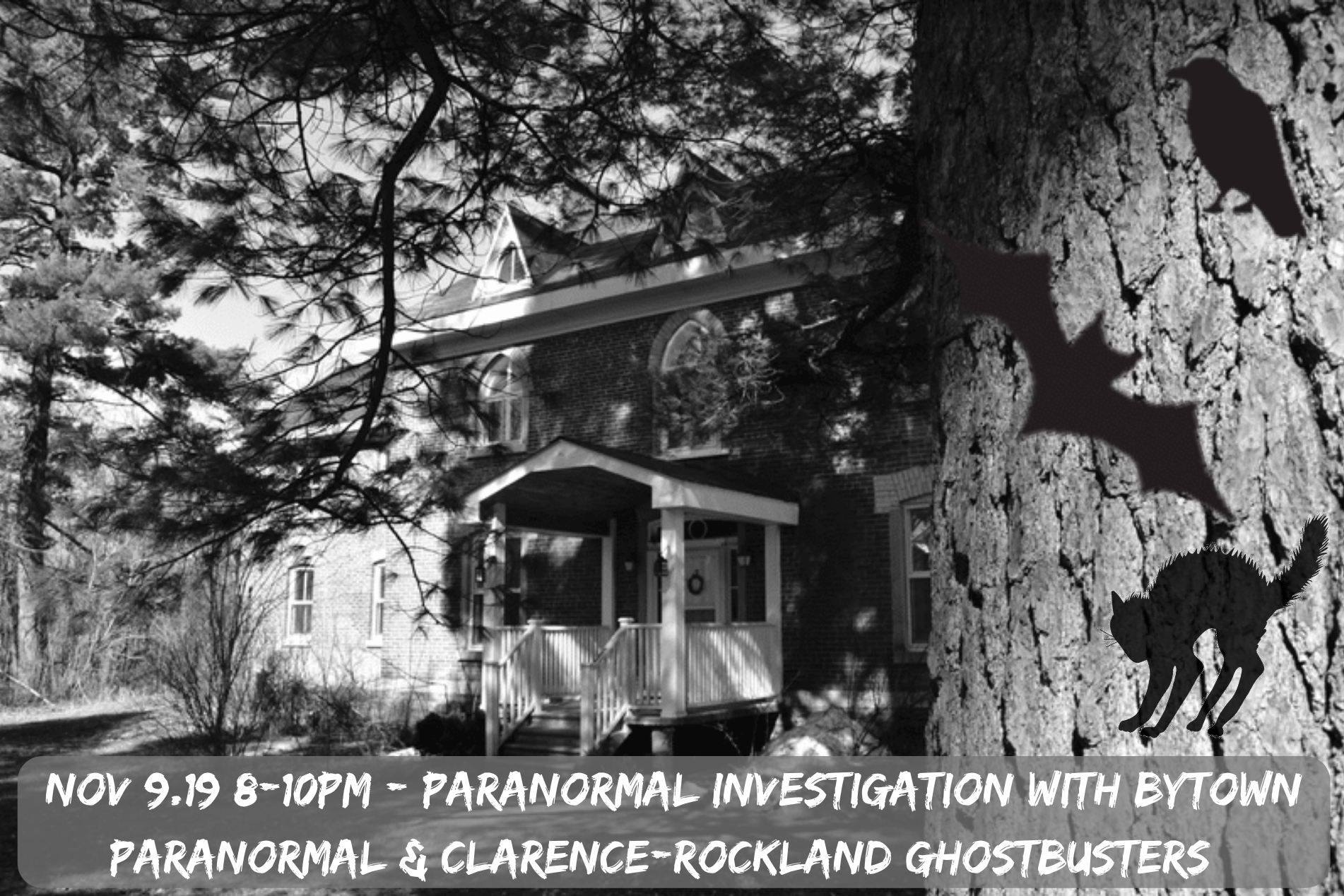 For the first time ever, Tucker House will be the site for a paranormal investigation!
For years, rumours have circulated around Tucker House with some speculating about the presence of ghosts and others swearing by a sighting. On November 9, 2019, the awesome team at Bytown Paranormal and Clarence-Rockland Ghostbusters will put these rumours to rest by conducting a paranormal investigation into the infamous Tucker House. Participants will follow along with the investigation and have the opportunity to learn more about paranormal investigations, Bytown Paranormal, CR-Ghostbusters and Tucker House!
Tickets are $20 each which covers the cost of admission, a campfire and hot apple cider.
There will be two investigations – one beginning at 8pm and one at 9pm. After the investigation is over, participants will have the opportunity to share their findings around a camp fire while sipping on hot apple cider.
This is a family friendly event! All are welcome to this night of spooky family fun!
———————————————————-
Who are Bytown Paranormal? 
Bytown Paranormal are a dedicated group of local paranormal investigators based in Ottawa. Founded in 2010, Bytown Paranormal offers investigations, fundraising for historical sites and event planning in the Ontario and Quebec regions.
Check out Bytown Paranormals facebook page!
Who are the Clarence-Rockland Ghostbusters? 
The CR Ghostbusters are a local branch of the Ghostbuster franchise. Their mission is promote Ghostbusters fandom, promote local history and assist local community groups.
"To provide free assistance and guidance while investigating the history of Ontario and Quebec with fresh new approaches, responsibility and respect and followup. We do full reports, and evidence unlike other local teams. Our tech equipment is leading edge and investigators fully experienced with years of training. There are no fees or costs involved for the client."
Check out Clarence-Rockland Ghostbusters facebook page!
———————————————————-
Follow us on Facebook and Instagram for more frequent updates.
If you have any questions, please contact Laura at seventhgeneration@maisontuckerhouse.ca
Accessibility
Tucker House's main floor is accessible. If you have any concerns about accessibility please contact us so we can ensure your time at Tucker House as enjoyable as possible.
Tucker House recognizes that, as with Canada itself, the history of the site pre-dates Confederation and the arrival of the Tucker family. We acknowledge with respect that we operate on unceded Algonquin territory and seek to work with Indigenous peoples toward Reconciliation.