Snowshoe Rentals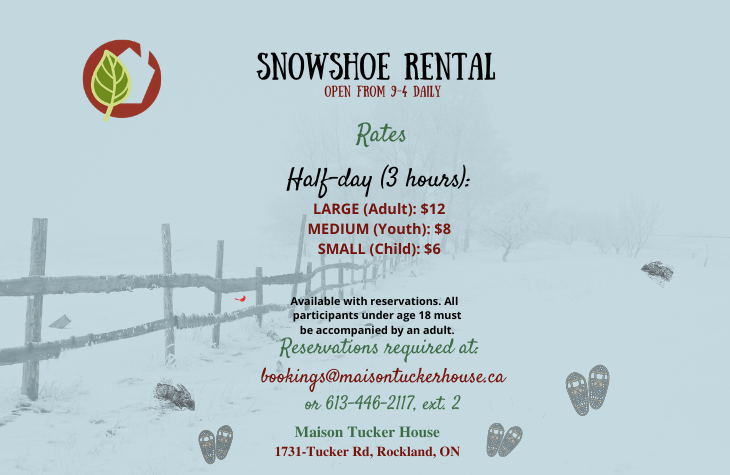 We are always glad to see visitors enjoy nature at Tucker House. We are renting snowshoes 7 days a week.
The property is open to visitors between 9:00 am and 4:00 p.m. 
Please note that we rent snowshoes for a time period of 3 hours within these hours. 
We offer 3 sizes of snowshoe based on weight
Snowshoes sizing chart (approximate)
Adult Large: 190-250 lbs (85 – 115 kg)

Youth Medium: 100-180 lbs (45 – 80kg)

Children Small: 30-90 lbs (13 – 40kg)
Our rates are as follows:
Adult Large: $12 per pair, 

Youth Medium: $8 per pair, 

Children Small: $6 per pair. 
** All snowshoes come with poles as well **
To reserve your snowshoes,
or if you have any questions
please contact us:
bookings@maisontuckerhouse.ca
(613) 446-2117 Ext.2
We require 24 hour notice for rental. Thanks for your cooperation. 
Payment for snowshoe rental is done via e transfer.
Yes, you may bring your own snowshoes (BYOSS ;). 
Donations are greatly appreciated to help us maintain and improve this special environment for everyone but there is no fixed fee for using the trails. 
Our donation box on site is located at the back entrance to the house, near the ramp.
You will also find the link for donating on our website at the address below.
https://maisontuckerhouse.ca/en/donate/