Meet The Team
Marie Veilleux 
Executive Director
director@maisontuckerhouse.ca
After a long career teaching at the university level, Marie is facing the challenge of being the new Executive Director with enthusiasm! A resident of Clarence-Rockland, her priority is to increase the community's awareness of the cultural heritage and environmental mission of Tucker House through an increased local presence.  Fencer, translator, traveler and mom, Marie has chosen a simple way of life and turns to history for answers.  She is hoping that Tucker House will benefit from her pedagogical expertise and experience and aims to pass on her passion for nature and sustainability.
Éliane Lachance & David Thivierge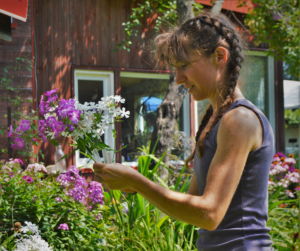 Bookings & Operations Managers
bookings@maisontuckerhouse.ca
Éliane always loved of nature and enjoyed her rural surroundings in Eastern Ontario, observing the cycles and characteristics of flora and fauna. She acquired rich experience from both her mother, a landscaper, and her father, a farmer and an architect. As a volunteer, she traveled overseas and participated in construction and social work. Along the way meeting professionals who contributed to expanding her knowledge in different fields, namely horticulture. In 2016, Éliane graduated from a graphic designer and illustrator program, giving her an understanding beyond her intuition of visual arrangements. Combining artistic composition, ecological consciousness and hard work, she designed the magnificent Pollinator Garden at Tucker House. Afterward, she worked as a consultant until now taking on the more involved responsibility of bookings manager and helper to the operations manager, her husband, David.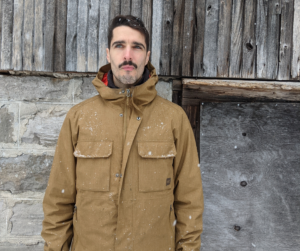 David comes from the eastern Ontario region. Recently married to Éliane, as a team they are now taking care of the practical aspects of the work at Tucker house. For five years he worked in Toronto as a full-time volunteer for a worldwide non-profit organization. Having learned Hindi and Punjabi he then moved to Montreal to help individuals from those communities apply beneficial life principles, all the while taking interest in personal projects like balcony gardening and traditional Inu kayak building. Now working on the Tucker House grounds, his experience in construction, farming and teaching contributes greatly to the workings of the Center's environmental goals. He feels confident there can be much good done when sharing knowledge about responsible ecological practices.
Jacqueline Nguyen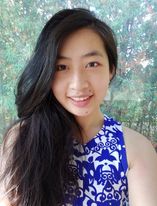 Jacqueline has been interested in the environmental field ever since the 4th grade when she took part in an eco-club and saw the amount of waste produced in the school. Ever since then, it became her goal to make a positive impact on the environment to the best of her abilities. She graduated in 2019 with a BSc. in Environmental Science from the University of Guelph and following her university career, she volunteered with a few ethical fashion non-profit organizations. This sparked her interest in working with ENGOs and how she found Tucker House. She currently works as our sustainability intern, tackling our databases, website and learning about the Rockland community to improve the visitor experience. 
Sophie Roy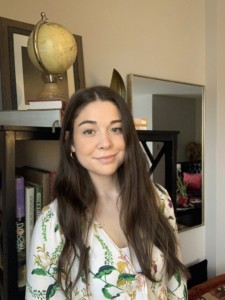 Sophie has a Bachelor's degree in Sociology from UOttawa and has focused her studies on the impact of society on the environment. From a young age, she has been passionate about sustainability; especially in regards to the loss of biodiversity and understanding new challenges we face in today's society. In her professional career, Sophie has assumed roles within The City of Ottawa and Ottawa Public Health, working alongside members of the community to coordinate programs and better the community she resides in. As she has a deep love and respect for nature, Sophie is excited to join the team at Tucker House as the Sustainability Intern.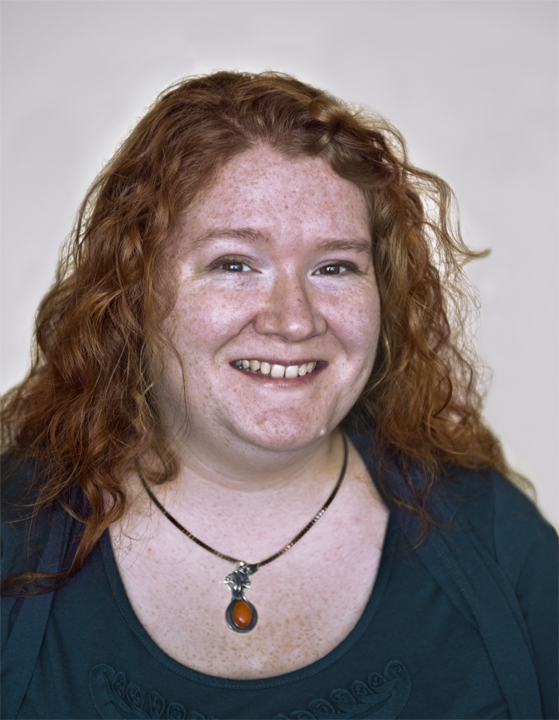 Program Advisor
Diana holds a Bachelor of Education from Nipissing University with attention to outdoor and experiential education. She has worked with a wide range of community organizations and has nearly 20 years of experience in leading quality environmental and experiential education programs. Her professional training and background includes extensive work in youth outreach, volunteer management, environmental education, and communications. As "Cedar", she supports our long-standing Country Fun Nature Camp, oversees environmental education programs, and is passionate about sharing and preserving the local natural history of the site.
Victoria Duval

Since early childhood, Vikki has always felt a deep connection and relationship with the earth. She joined the Tucker House team in September 2021 as our Seed Saving Garden Co-Ordinator, aka "The Onion Lady", after showing great commitment and dedication as a cherished volunteer. She embraces the gift of fertile soil naturally and has been a successful vegetable and home landscape gardener for almost 35 years. She never tires of the joy and fulfilment of planting seeds and nurturing them responsibly and loves to help them develop into thriving, healthy, productive plants. Her overarching goal at Tucker House is to produce and harvest an abundance of organically grown, open-pollinated, heirloom seeds to be offered by Tucker House. With our team's values and this vision in mind, she has already begun overhauling our current seed saving garden and envisions growth, beauty, and variety in what we will produce in the future. If on-site, Vikki will greet you with a warm, authentic welcome! She is pleased to advise others of our volunteer opportunities as she loves to share her passion and work with the community!