March Break Nature Camp 2023
Registration Form Below ↓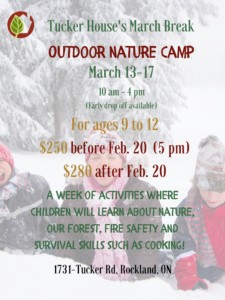 Click here for more camp details & to register
March 13-17, 2023
10 am – 4 pm
From ages 9 to 12. We welcome all children and our camps are bilingual though some portions may be English only.
Pre-register your child for $250 before 5pm on February 20th.
Price will increase to $280 after 5pm on February 20th. 
*Early drop off, late pick up not included in the rate*
All payments are non-refundable (terms and conditions apply, see below)
Please note we have a minimum number of registrants required to host the camp. We will notify registered parents no later than March 1, 2023 if for some reason, we need to cancel the camp.
---