Overnight Bookings
Weddings, family gatherings, anniversaries, scouting groups, team building activities, and personal growth retreats… it all happens at Tucker House! Roam our 30-acre property and enjoy the pool, picnic tables, learning stations, and, of course, our nature trails in the forest. Gather around the campfire and create lasting memories.
Features
Property
Tucker House is situated on a magnificent 30 acre property. Surrounded by nature. It's so calm and quiet, you could not imagine that downtown Rockland is just minutes away. The balance between the many gardens and the wilder nature of the  forest offers the best of both worlds to nature lovers. The pavilion, equiped with electricity, lighting and heating, provides the perfect outdoor space for all of your events while being surrounded by nature. During the warmer months you might cool off at the pool or warm up by the fire at the fire pit year round. So many options in one place.
The house
This home built in 1870 is filled with ancestral charm. On the main floor, you will find two large rooms to gather; the Parlour and the double dining room. Both of which may accommodate approximately 20 people. These rooms offer plenty of natural light. They have retained their original woodwork and architectural details from the Confederation era. The main floor also features a handicap accessible powder room while the second floor has two full bathrooms and six bedrooms.
Mr. Tucker's Room
Capacity 3 to 5: 3 single (twin) beds + 2 pull-out trundle beds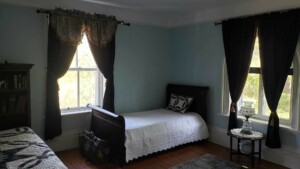 It is believed that Mr. Tucker would have occupied this room. This room features hardwood floors and two east and south facing windows providing beautiful morning light. It is furnished with 3 single beds, with 2 pull-out trundle beds.
This room has a built-in closet that was built at a time when closets were rare and cabinets were more common. Note the vintage light fixture, arched front window, original closet and pass-through door.
Mrs. Tucker's Room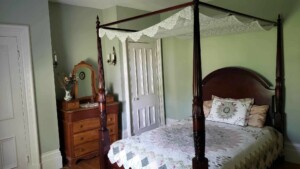 Capacity 2: Queen size canopy bed
We believe this was Mrs. Tucker's bedroom and/or a dressing room. It was common for wealthy couples to have separate bedrooms or a dressing room. In addition, this room not only has built-in closets but is furnished with a four-poster bed and a chest of drawers and an antique sofa, which was a rarity at the time.
The Prayer Room
Capacity 2: Single (twin) bed + one pull out trundle bed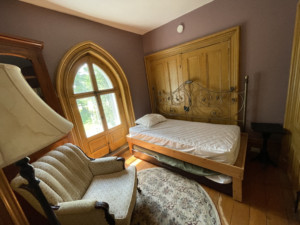 This room may have originally served as a small sitting room for sewing or embroidery during the day, or as a room for newborns. It connects Mrs. Tucker's room with Mr. Tucker's bedroom and opens to the staircase to allow natural light to enter. Note the heritage woodwork and painted plaster of the arched window that once opened onto a small balcony. This small but charming space is furnished with a single bed and a pull out trundle single bed.
The Blue Room
Capacity 3: One double bed and one single (twin) bed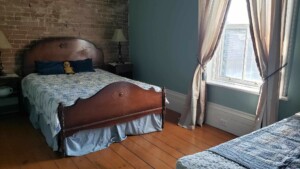 This room was once a dark pink, suggesting that it was inhabited by the Tucker boys (pink being a masculine color at the time). The single window overlooks the backyard and the forest. We have exposed the original masonry and the decoration has been chosen to highlight the subtle hues of the natural local clay. This room is furnished with a double bed in an antique frame and an additional single bed (not shown). There is also enough space to bring a small playpen or baby crib from home.
The Pink Room
Capacity 6: One double bed with a single (twin) bunk on top, one single (twin) bed with a pull out trundle bed (twin), and another single (twin) bed.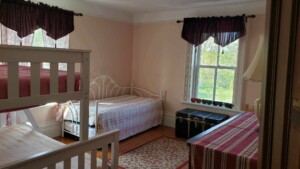 The Tucker children probably once shared this room. You'll notice the curved wall, designed to accommodate the closet in Mr. Tucker's room and the small built-in closet for sheets or toys. Two large windows overlook the garden and yard.
The Servant's Quarters
Capacity 5: One double bed with a single (twin) bunk bed on top, a pull out trundle bed (twin) and a single (twin) bed.
This simple room is located away from the main area, past the bathrooms at the end of the upstairs hallway. Originally, some of the Tucker servants would have stayed here, using the steep, narrow staircase to access the kitchen and prepare meals for the day. Even the servants had small closets – the new fashion in architecture at the time! The three windows make it a light and spacious space. Because this room is nestled away from the main area of the house, it is often a quieter place and popular with families who want to put young children to bed early while the meeting continues on the first floor.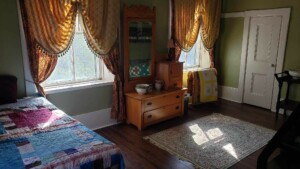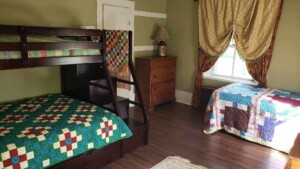 Sofa-Bed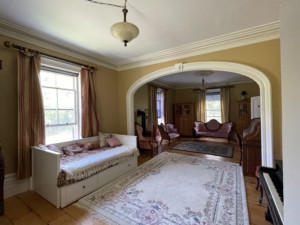 Located on the first floor – Can accommodate 1 + (accessible)
The living room also features 1 expandable daybed. This bed can accommodate those who need an accessible option on the first floor.
Kitchen
We have a large, modern, eco-friendly and functional kitchen for your use. Stainless steel refrigerator, commercial stove, 2 sinks, large island and plenty of dishes and silverware to use during your stay.
Please note that guests must follow health and safety requirements for cooking: no grease-laden steam generation and no cooking of meat with oils. However, simmered and reheated dishes are permitted.
Don't have time to prepare food? Contact a local caterer for professional service and hot or cold food delivered to your door.
Facilities
There are 2 full bathrooms with showers on the second floor and a powder room/accessible washroom on the first floor.
Hosting
Tucker House can accommodate up to 24 people for sleeping, and more if you are camping! Our rooms have a variety of single and double beds, with several pull-out beds and a queen size bed. The regular layout includes 15 beds on the floor, many of which are double or queen size for couples or trundle beds for guests with children.
11 single beds (twins) / daybeds
3 double beds upstairs
1 queen size bed upstairs
5 single (twin) beds / pull-out beds upstairs
1 single (twin) bed downstairs, expands to a king size bed accessible for people with limited mobility
Please see our room guide below to plan your stay. We are pleased to offer affordable rates to assist community or religious groups looking for a place to renew. Bring your own bedding, pillowcases, comforters and toiletries. Our bedding is decorative only.
Bedding:
There are two options available to you
Option # 1: Bring your own bedding
Many groups prefer to bring their own bedding, sheet, pillowcase, comforter and toiletries.
Option # 2: Rent our 100% cotton bedding
Our bedding includes a fitted sheet, comforter cover, comforter, pillow and pillowcase
**Please note that we do not provide towels or toiletries (soap, shampoo)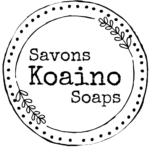 New ! – Why not make your stay even more enjoyable ? Tucker House now offers the opportunity to add Koaino Soaps products to your booking! 
Koaino Soaps is a local woman owned business in Clarence Creek, Ontario. Their products are made with natural ingredients, scented with essential oils and contain no chemicals. They offer a variety of products ranging from lip balms, soap bars and bath products.
Contracts
Rentals are made in the name of a single contract holder who signs and is responsible for the group of renters. A 25% deposit is required in advance, with the balance due on the date of stay, payable by cheque to "Tucker House". The contract holder must be a responsible adult who will be on site for the duration of the rental.
For availability or an appointment to view the house, please contact our Reservation Manager at bookings@maisontuckerhouse.ca or (613) 446-2117 ext. 2.
A signed contract, 25% deposit and a signed agreement of the terms of use must be received prior to your stay. See below for details, contact information and pricing.
Price
Reservations include free parking, access to Wi-Fi, a presentation screen and use of the projector (upon request).
Weekend: 
*Friday 3 pm to Sunday noon: $1500 to $2000 depending on the number of people
One weekend night:
* 3 pm to noon the following day: $750 to $1250 depending on the number of people
One weekday night:
*3 pm to noon the following day: $500 to $800: depending on the number of people
Reservations are made through email by contacting bookings@maisontuckerhouse.ca The 25% deposit is non-refundable if the event is cancelled. This deposit is required at the time of booking and the balance due upon arrival at the venue. Special rates are available for non-profit and charitable organizations. Please contact us for a quote.
Get a Quote !
Don't hesitate to contact our bookings coordinator for a quote. She will be happy to work with you, give you a tour of the house and learn about your needs in order to book the right dates for your stay.
bookings@maisontuckerhouse.ca 613) 446-2117 ext. 2